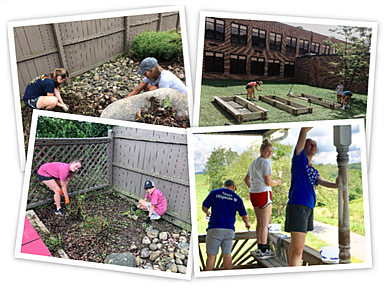 BACKYARD SUMMER SERVE IS HERE! We are so pleased to announce that Summer Serve Week will return for 2020! We have appropriate measures in place based upon the state requirements for Covid-19. This year we will be serving directly from our own backyard - CAMP HARMONY! We will also be offering an overnight opportunity in addition to our day camp. Please see the registration form.

What: Backyard Summer Serve 2020
When: July 19 - 23 for the overnight camp and July 20 - 23 for the day camp
Where: Camp Harmony - Quemahoning
Why: BECAUSE WE LOVE OUR COMMUNITY!

Summer Serve Week: IS AWESOME! This week was designed to bring the mission trip mentality HOME. Often, our young people are seeking service opportunities outside of their communities. This week brings the service to them. Students in grades 7 - 12 spend three to four days doing various service projects throughout the Conemaugh Township community as well as surrounding local Cambria and Somerset areas. These projects have included: rebuilding bleachers at a local baseball field, wheel chair ramps, painting, building sustainable gardens, road cleanup, blight cleanup, the Quemahoning trail project, visiting elderly homes, lawn care and home maintenance, and much more.

Students are provided with breakfast, lunch, snacks, and transportation. This week costs 25.00 per student; however, scholarship is available. College students, teachers, and community members lead groups throughout the week. Summer 2020 brings something new and exciting to Serve Week - we will be partnering with Camp Harmony to have four FULL DAYS - including swimming, hiking, rope course adventures, camping, and more to build and strengthen service and our love for Christ and our neighbors. Please look for our registration form and more information to come. Additionally, if you know of a family in need or a project, please complete the project form.






For more information, please email us at: