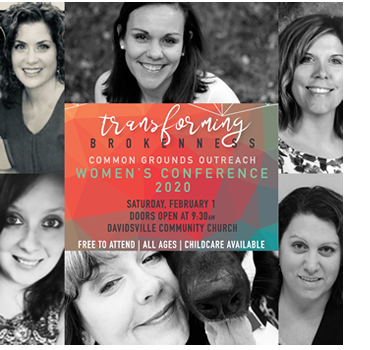 **NOTE: Child care is FULL for the conference**

Get ready for Broken 2020! Let the redeemed tell their stories! This conference will refresh, rejuvenate, redeem! Broken 2020 will be held on February 1, 2020, at Davidsville Community Church. The doors will open at 9:30AM with coffee and pastries.

Get ready to celebrate the redeemed with guest speakers (Kendra Pope, Dustyn Wirick, Christina Burkey, Kelly Birkhimer, Melissa Hostetler, and Heather Snyder), worship (Jennifer Vickroy and worship team), fellowship, and food (breakfast and lunch). Childcare will be provided and the cost of the event is FREE! You may make a love donation or choose to be a sponsor.

Please complete the registration form by January 17, 2020. Registration will be opened until the day of the conference but early registration is appreciated.







For more information, please email us at: